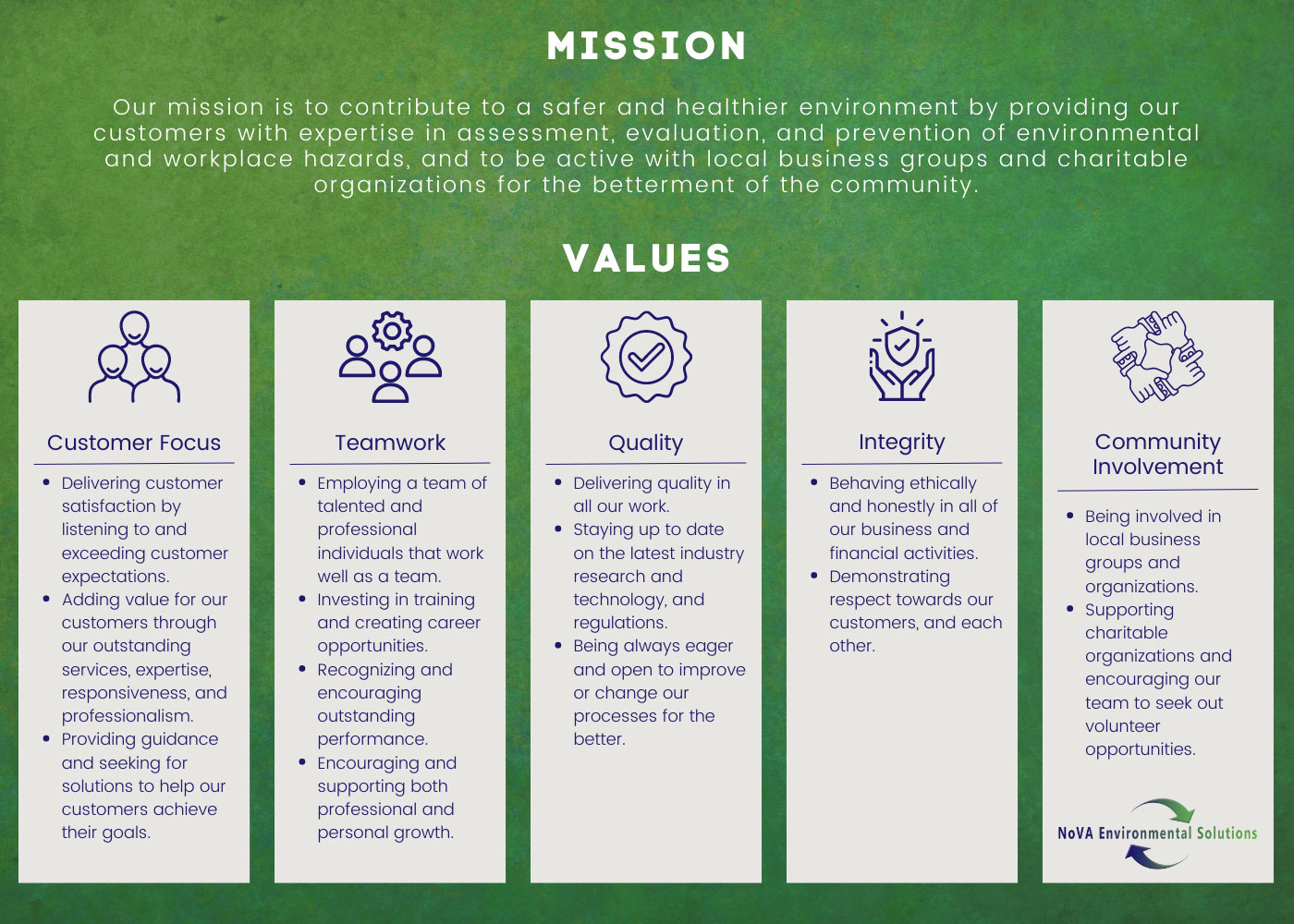 The NoVA Environmental Solutions Difference
NoVA Environmental Solutions is an industrial hygiene firm that specializes in mold and moisture inspections and testing, asbestos inspections, bacteria testing and indoor air quality testing. Through our expertise, understanding of ever-changing industry standards, and use of the latest technology, we are able provide our clients with a better understanding of the issues that they may be facing.
We have conducted microbial (mold and/or bacteria) investigations, indoor air quality assessments, asbestos inspections, water testing, and Industrial Hygiene related services in over 2,000 residential, commercial, industrial, governmental, and healthcare facilities, and schools.
NoVA Environmental Solutions offers unbiased information to address concerns related to potential exposures, health effects, or possible physical damage to property.
Our approach is simple:
Listen to the client's concerns.

Develop an appropriate plan for inspection and testing.

Perform inspections in accordance with industry standards.

Provide reports that are easy to understand.

Be available to answer any questions the client may have.
Meet Paul.
NoVA Environmental Solutions was founded by Paul Burger. Paul grew up in Buffalo, NY where he started working in the industrial hygiene field in 1994. Paul moved to Winchester, VA in 2009 and worked as Director of Mold/IAQ Services, Industrial Hygienist, Asbestos Inspector, and Asbestos Project Monitor before opening NoVA Environmental Solutions in 2016.
Paul is a Council-certified Microbial Consultant (CMC) Board-awarded by the American Council for Accredited Certification, a Certified Residential Mold Inspector and Certified Commercial Mold Inspector awarded by the Professional Mold Inspection Institute, a District of Columbia Department of Energy and Environment Licensed Mold Assessor, a U.S. EPA AHERA Accredited Asbestos Inspector and Asbestos Management Planner. Additionally, Paul is a participating member of ASTM International as a participating member of Committee D22 on Air Quality, Subcommittee D22.08 on Sampling and Analysis for Microorganisms, Subcommittee D22.04 on Workplace Atmospheres, and Subcommittee D22.05 on Indoor Air. Paul is also a member of the Environmental Information Association (EIA), Indoor Air Quality Association (IAQA) and a member of the American Industrial Hygiene Association (AIHA).
Paul treats his work as if he was doing it for his own home or family. Paul dedicates himself in keeping up to date with the latest research and standards by taking several hours of Continuing Education each year. He also gives presentations to Real Estate offices, property management companies, and other firms in the industry.
Outside of work, Paul enjoys spending time with his dogs, George Washington (Fila Mastiff), Manny (Fila Mastiff), and Marshall (French Bulldog). Living in Winchester, Paul takes advantage of the beautiful area by taking long rides on his motorcycle, playing golf, and doing other outdoor activities. Paul also plays recreational ice hockey and is an avid sports fan whose favorite teams are the Buffalo Bills and Buffalo Sabres, and Washington Nationals.